Crane Authentication recently hosted top executives of leading Swedish companies at the US Ambassador's Residence in Stockholm for a seminar on global product counterfeiting trends and brand authenticity. 
The event was hosted and organized jointly by the US Commercial Service and Crane Authentication. The educational and interactive event gave insights on global counterfeiting, its harmful impacts on economies and wellbeing, and how some are keeping pace in meeting the challenge.
Crane President, Sam Keayes, addressed the crowd including US Deputy Chief of Mission Mark Evans and top Swedish executives with a keynote speech titled, "Customers Deserve Authenticity." Keayes said, "Simply put, by using best-in-class security technologies, we help brands protect their products from counterfeiting, while enhancing their visual appeal with compelling, eye-catching effects."
Keayes' speech concluded by gifting the attendees with a limited-edition micro-optic artwork named "Tough to Crack" – a tribute to the tough-to-crack characteristics of Crane's unique micro-optic labels that deliver fluid, animated movement and 3-D visual effects. 
Said Keayes, "The surprising effects you're setting into motion are those that encourage consumers to interact with your labels and brands, all the while helping them differentiate real from fake easily and intuitively. Crane can secure your product with visible and invisible marks of authenticity that go far beyond easily simulated holograms."
Deputy Chief Evans said, "We are all painfully aware that counterfeiting is a global concern. It is a serious problem that affects every industry, from fashion to pharmaceuticals, from electronics to cosmetics, and even our health and the environment."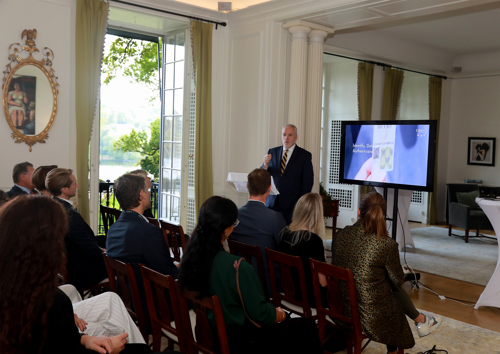 *Photography by Embassy of the United States of America, Stockholm, Sweden photographer Keith P. Sousa.